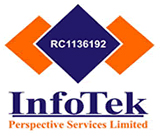 .... How can we help you today?
We can offer you the following:
Dedicated/Shared Windows server hosting...
Bulk SMS and reseller solutions...
We can network and cable your new office...
Website design and affordable hosting...
We provide short code premioum service...
Short code for mobile payment and voting...
GSM number database for your Campaigns...
Secure your website with Verisign Socket Layer...
IT consulting that fits your IT needs...
Contact Us for details today...

InfoTek Perspective Services Limited (RC 1136192):
Kaura Modern Market, Banking Hall "A", 1st Floor, Durumi District, Abuja, Nigeria
---

InfoTek Perspective Services' mission as leading AISP (AISP stands for Applications and Infrastructure Service Providers) is to achieve maximal clients and partners satisfaction through longstanding and prosperous partnership.
We believe that the right way for accomplishing such challenge is to create and deliver innovative and cost-effective solutions which will enable our clients and partners to gain market success and beat their competitors.
Key for success is to control the entire value-chain of creating, operating and maintaining value-added services based on out own infrastructure. Contact Us